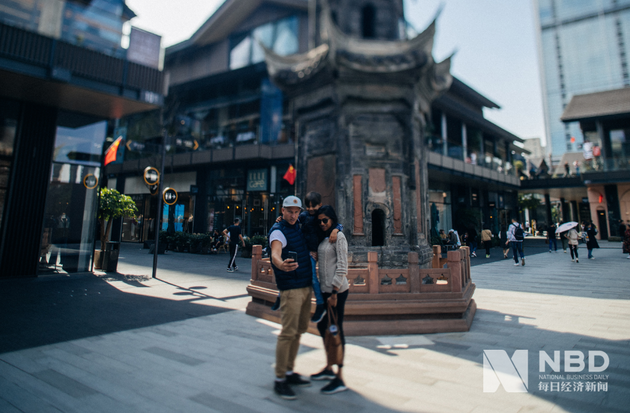 File photo/Zhang Jian (NBD)
Sept. 18 (NBD) – What impression has Southwest China's Chengdu left on the world? Is it the Three Kingdoms heritages with mystery, a cup of tea with long finish, the spicy hotpot, or the pandas with overloading cuteness?
On September 26 and 27, the first session of an event for foreign students in China, sponsored by National Business Daily (NBD) and organized by the NBD Think Tank, will be held in Chengdu. The event is to give the foreign students a deeper understanding of the city.
Themed by "Experiencing Chengdu, a City You'll Never Want to Leave", the event will serve scores of foreign students from China's prestigious universities including Tsinghua University, Sichuan University, Wuhan University, Huazhong University of Science and Technology as well as Chengdu University, offering them a chance to deeply experience Chengdu's business environment, cultural enchantment, laid-back lifestyle, etc.
"The event is aimed to showcase the world an optimistic, open, and inclusive Chengdu," said a person-in-charge at NBD Think Tank, "and to let more foreign friends see, visit, and then fall in love with the city."
During the event, all participants will visit Chengdu City Planning Museum, Guixi Ecological Park, Chengdu Research Base of Giant Panda Breeding, Chengdu Shujin Embroidery Museum, the first adapted venue for the 31st FISU Summer World University Games Chengdu 2021, and other sites with typical Chengdu characteristics.
The event will also offer a platform for all foreign students to narrate their story in Chengdu, presenting the city in different perspectives. Furthermore, other activities such as photography contest and DIY manual workshop will also be included.
The event will certainly be another window open to the world, allowing different cultures to meet, communicate, and converge.
Come to join us, and you will encounter a unique Chengdu! To sign up for the event, please contact wangshan@nbd.com.cn.
Email: gaohan@nbd.com.cn
Editor: Gao Han